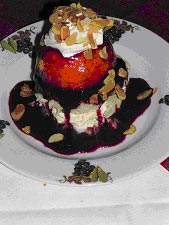 Recipe from July 14 dinner. Thank you, Keith, for agreeing to share recipes from the kitchen! All recipes are close approximations of amounts and ingredients.
Peach Melba


Ingrediants:
6 peaches
1 genoise, or cheat and use pound cake
1 quart vanilla ice cream, the very best!
3 tablespoons granulated sugar
3 cloves
2 cinnamon sticks
1 pound raspberries
1/2 cup sugar
1 cup whipping cream
1/2 cup sliced almonds

Directions:
1. Dip peaches into a pan of boiling water for no longer than 30 seconds. Let cool to touch.
2. Slice genoise horizontally to make two layers. Cut both layers into six squares approximately 3"x3". Place a scoop very best vanilla ice cream on one half. Cover with other half. Refrigerate.
3. Skin peaches. With sharp knife cut center core in peaches. Push out core including stone.
4. Pour away boiling water, leaving just enough in the bottom of the pan to cover peaches. Add granulated sugar, the cloves and cinnamon stick. Bring water back to the boil and put in peaches. Simmer them for 5 to 6 minutes until peaches start to go translucent. Take peaches out. Let them cool. Reserve liquid.
5. Combine raspberries and sugar. Either mash thoroughly with fork or pulse in food processor. Strain through sieve to remove seeds. Stir in a little of the cold peach syrup so you get the thickness of double cream.
6. Beat whipping cream until you are able to form fairly stiff peaks.
7. Just before serving, remove genoise slices with ice cream from refrigerator. Place peach on top of genoise.
8. Pour raspberry coulis over each peach/genoise. Pipe on a generous portion of whipped cream. Sprinkle generously with sliced almonds.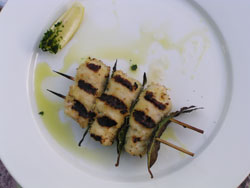 Recipe from June 23 dinner. Thank you, Keith, for agreeing to share recipes from the kitchen! All recipes are close approximations of amounts and ingredients.
Involtini di Pesce Spada, Stuffed Sword Fish


Ingrediants:
36 ounces Swordfish , cut into 18 thin slices, approx. 2 ounces each
18 bay leaves
1/4 cup white wine
4 large basil leaves, chiffonade
3 cloves garlic, finely chopped
1 small onion, finely chopped
1/4 cup fresh parsley, finely chopped
3/4 pound bay shrimp, peeled and deveined; finely chopped
1 1/2 cups bread crumbs , soft and fresh
6 tablespoons olive oil
2 tablespoons capers, rinsed and chopped
salt and freshly ground pepper, to taste
1 lemon, cut in wedges



Directions:
1. Preheat grill. Soak bamboo skewers.
2. In a small skillet heat the olive oil. Add the garlic and shrimp and sauté for a minute or just until the shrimp turns opaque. Add the white wine and boil down until evaporated.
3. Sprinkle on fresh bread crumbs, enough to hold the mixture together.
4. Transfer to bowl and stir in, capers, basil and parsley. Season with salt and pepper.
5. Place swordfish slices between two sheets of plastic wrap. Pound to flatten. Remove from plastic wrap and place on work area.
6. Sprinkle the shrimp stuffing over the slices to within 1/2 inch of edge and pat into the fish. Roll up. Roll each roll in lightly in remaining bread crumbs. Secure with toothpicks.
7. Thread three rolls on a long bamboo skewer alternating with fresh bay leaves.
8. Grill 10 to 15 minutes or until flesh is firm to the touch.
9. Serve immediately garnished with lemon wedge and chopped parsley.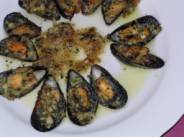 Recipe from May 12 dinner. Thank you, Keith, for agreeing to share recipes from the kitchen! All recipes are close approximations of amounts and ingredients.
Mussels with Garlic
Approximately Six Dozen



Ingrediants:
3 quarts mussels, live
3/4 cup white wine
3 shallots, chopped
2 teaspoons minced garlic
3/8 cup chopped parsley
pinch of thyme
freshly ground black pepper, to taste
1 cup white bread crumbs
4 1/2 tablespoons butter

Directions:
1. Scrub mussels well in water to remove sand.
2. In a heavy kettle, bring the wine, shallots, garlic, parsley and seasonings to a boil.
3. Saute the mussels in the garlic then add the wine mixture to steam open.
4. Cook over high heat until the mussel shells pop open, about 6 minutes. Shake the pan from time to time as they cook; discard any mussels that refuse to open.
5. Drain as much cooking liquid as possible into another saucepan; swirl the butter into the cooking juices. Let butter mixture cool.
6. Split mussels open and remove meat. Put a little butter mixture in shell; add mussel; meat spread butter over meat to fill shell and put bread crumbs on top.
7. Place breaded mussels in large baking dish
8. Place under broiler for 3-4 minutes. Broil to melt butter.
9. Transfer mussels to plates. Pour sauce over all.