Upcoming events:
---
Augest 11 menu to be announced

Upcoming Music - Wally Jensen on piano, John Burdick on mad dog guitar

Future events:

---
August 11 and 25
Watch for September and October dates.
Ray Jacobsen Night A An unveiling of new work for Wild Thyme.
Music:Tony & Lisa Flores A mandolin and guitar, Wally Jensen


Ongoing events:

---
Stayed Tuned to KSVY 93.1 for the Justine Filipello Alternative Music - 11:00 to midnight Thursdays for the pick of the punk. And catch the Petanque Show Tuesday Nights, with Hans and Tom (Club Rive Gauche regulars) where they scratch their heads and throw their boules - world music and crazy call in. Future Club Rive Gauche Events!


El Verano Community Multicultural Center
Open Wednesday nights 6:30 for oui, the Peopleo
Open microphone, music, poetry and prix fixe French family style dinners.
Wild Thyme Library, 19030 Railroad Ave.
Bring your own wine. There is no corkage charge.
Reservations are required: CALL 707 939-6633 OR email: wildthyme@vom.com
We reserve the right to change everything without notice members only
Please email your email to our email so we can send you schedules.
on the left bank of Sonoma Creek in El Verano, California Meets Wednesdays 6:30 pm for dinner
Family Style Dinners $25. each or 20 Euro. Service not included.


Past events:

---
July 28
Tribute to Ray & Barbara Jacobsen, wonderful local artists and dear friends

Neapolitan Feast - Menu
I. Pizza alla Napoletana
II. Speghetti alla Vongole
III. Petto di Tacchino alla Napoletana ( Turkey with Tomato and Mozzarella)
IV. Insalatina Mista
V. Pesche Ripine Agli Amaretti (Peaches stuffed with Amaretti)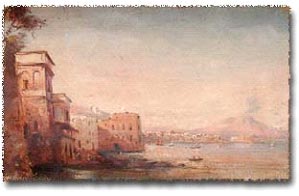 Napoli! Il Monzù: Neapolitan Glory
During the 17th and 18th centuries Naples was one of the richest and most sumptuous courts of Europe, attracting wealthy aristocrats from all over, who came to enjoy the climate, scenery, social life, and lively intellectual discussions (the fascination with things Middle Eastern and Oriental that characterized the 19th century began in Naples, and, on a lighter note, Lady Hamilton reenacted biblical scenes bare breasted).
The Neapolitan hosts of course rose to the occasion with lavish banquets; Caròla Francesconi, the late doyenne of Neapolitan food writers, says that the best chefs were Sicilian and Abruzzesi, and that they were called Monsieur because of the way they adapted the dictates of elegant French cuisine to the Neapolitan ingredients and palate. With time Monsieur became Monzù, and if a particular Monzù served a particular family for a long time, he was referred to as Monzù, followed by his employer's last name, while the best dishes he created (perhaps at the suggestion of the employer) were given his employer's name, and kept quite secret.
With the decline of the aristocracy in the mid-1800s the great Monzù were forced to leave the employ of their masters; some turned to cooking for social clubs of one sort or another, while others opened restaurants, and to this day Neapolitans use the term Monzù to refer to a great chef.
Source: http://italianfood.about.com/library/weekly/aa123101.htm


Romantic Neapolitan and Sicilian Music by Tony Flores on the Happy Mandolin and his daughter Lisa.

Menus at $25. per person or 20 euro, service not included. Bring your own wine, no corkage

Our dinners are prepared for the number of reservations, so be sure to reserve well in advance!
email: or CALL 707 939-6633
Club Rive Gauche meets some Wednesday Evenings 6:30 at the Wild Thyme Library for local Music and prix fixe family dinners.
Wild Thyme Library, 19030 Railroad Ave. on the left bank of Sonoma Creek between Grove St & Verano Ave. in El Verano, California 707 939-6633 reservations required

July 14
Bastille Day! Bounty of Summer, South of France Menu

Bastille Day Menu a culinary visit to Provence
I. Pissaladiere
II. Salad Nicoise
III. French Cheese Course
IV. Peach Melba

Friday, June 25
An Evening with Stoneground!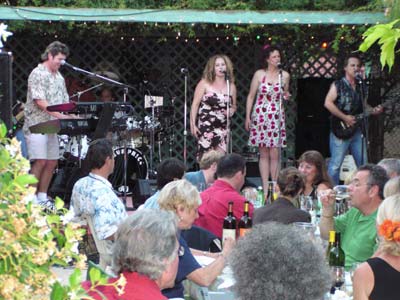 The seminal Bay Area rock band legendary for its incendiary live performances. Stone ground is billed as a rock band, but their music is heavily influenced by blues, R&B, pop and funk. The six-piece band features guitars, keyboards and four different vocalists. Delicious buffet dinner available for additional $25 per person.
For ticket information call 996-5980.

June 23 Menu
Sicilian Fare
I. Parmigiana di Melanzane Eggplant, Cheese & Tomato
II. Insalata Caprese, Tomato, Mozzarella and Basil Salad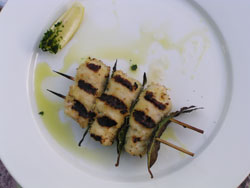 III. Involtini di Pesce Spada, Stuffed Sword Fishz
IV. Fresh Peaches in Red Wine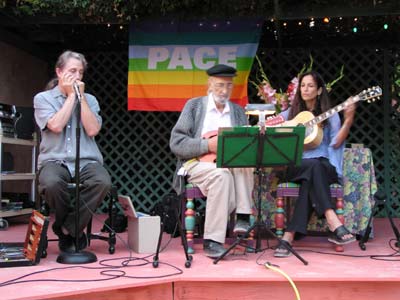 Music by Tony Flores on mandolin, Lisa Flores on Guitar, Norton on hermonica... and Great Conversation!

Antonion Flores was born in the fishing village of San Vito, Sicily in 1914. His father was a fisherman who sang sea songs. He also called the controdanza Siciliana. Tony and his siblings comprised a band for his father. Between se-dance tunes, they played mazurkas, polkas, tarantellas and waltzes. In 1921 the family came to America and to finally settle in San FranciscoÕs Marina district. Tony is one of the last of a generation of purveyors of the Old World music in the New World, offering dance tunes and Neapolitan songs. His brilliance has endured for more than seven decades.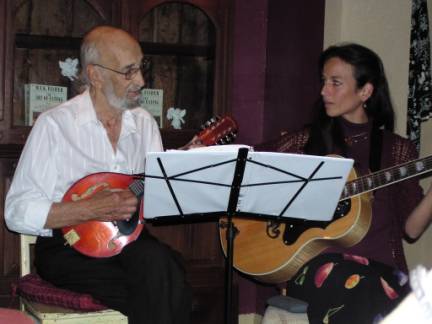 Tony and Lisa at Club Rive Gauche.